Fashion Week, Face Masks, the Timeline & How the Fashion Industry Coped with COVID-19!
The New Fashion Accessory: The Face Mask
Some medical experts debunk the use of face masks to contain COVID-19 (unless they're N95s). Others say that masks are effective at capturing droplets, which is the main transmission route of coronavirus. According to The Guardian, "some studies have estimated a roughly five-fold protection versus no barrier. If you are likely to be in close contact with someone infected, a mask cuts the chance of the disease being passed on. If you're just walking around town and not in close contact with others, wearing a mask is unlikely to make any difference."
And so, fashion brands wasted no time creating and embellishing their own versions, and adding them to their collections. Can't you just hear the cash registers ringing?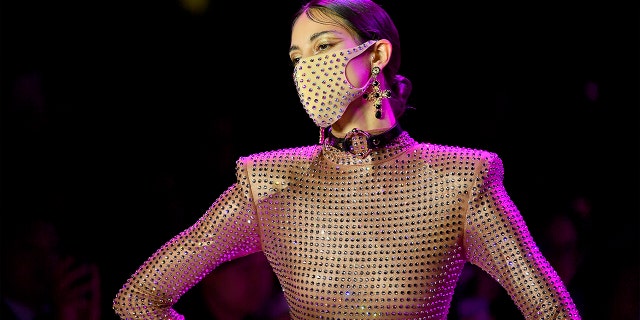 Model wearing a studded face mask at The Blondes NYFW 2020 show (Photo credit: Roy Rochlin/Getty Images for NYFW: The Shows)
London Fashion Week face mask video by The Telegraph
Guests wear protective masks as a model walks the runway at Dries Van Noten in Paris. (Photo credit:  ANNE-CHRISTINE POUJOULAT/AFP via Getty Images)
What started out last season as "anti-pollution" masks at French designer Merine Serra's spring show, has quickly morphed into "virus protection" accessories for fall 2020.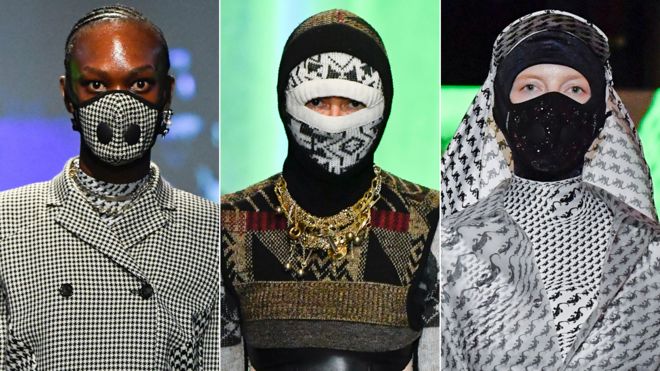 Marine Serre Paris Fashion Week Show (Photo credit: Getty Images)
The Timeline
The timing couldn't have been worse, but I guess you can say, New York Fashion Week dodged a bullet. A few days before NYFW (Feb 6-13) the CFDA issued a coronavirus statement on their website with info given to them by the NYC Department of Health and Mental Hygiene (DOHMH). The message:
" the risk to New Yorkers is low, there are ZERO cases in NYC and only 6 cases as of 1/30/20 had been confirmed in the U.S. but none in NY State."
London Fashion Week (Feb 14-18) wasn't so lucky. A majority of Chinese press and buyers were unable to travel, a forewarning of the serious financial impact that the virus will have on business, since China is responsible for a third of all global luxury sales and where many of the textiles used in collections are made. Thousands of people, including about 2,500 ticket-buying members of the public were scheduled to attend more than 60 presentations. To assuage fears, each night London's fashion show venue was given a  "deep clean" and antibacterial hand sanitizers were distributed to those who did attend. Some attendees even brought their own face masks! Adding to the problem, several Chinese designers were unable to travel due to a travel bans, and therefore had to cancel their New York, London, Milan and Paris shows.
Giorgio Armani poses in front of models at his Fall 2020 show. (Photo credit: Instagram@GiorgioArmani)
By Tuesday Feb 18th, the scheduled start of Milan Fashion Week, the fashion industry was jittery. The coronavirus outbreak first hit the city that weekend as Milan Fashion Week neared its end. As a precaution, on Feb. 22nd Giorgio Armani announced that he would no longer host a runway show to an audience, instead, he would live stream his show behind closed doors in an empty theater. Armani posted the announcement on Twitter, adding that it was a preventative measure in support of national efforts to safeguard public health. The company also closed its offices and plants in Northern Italy for the next week. During the end of Milan Fashion Week (Feb 24th), a number of shows and events were cancelled and then on Feb 26th, the first case of coronavirus, linked to Milan Fashion Week, was confirmed in Greece.
At the start of Paris Fashion Week on Monday Feb 24th, anxiety was at a fever pitch, although no shows were cancelled (gotta love the French – the show must go on!). Models both on and off the runway were donning designer face masks validating the newest fashion accessory…the Designer face mask  I mean, who but the French would pass up a "new fashion accessory opportunity"?
Japanese fashion model Kozue Akimoto, seen wearing a face mask and red coat outside Marine Serre during Paris Fashion Week. (Photo credit: Christian Vierig/Getty Images)
More Coronavirus Fashion Week News
LONDON
Burberry's creative director, Ricardo Tisci, presented his Burberry fall 2020 show in London with great success but announced that because of COVID-19, they would postpone their fall 2020 Shanghai show slated for April 23rd  and a new date has yet to be revealed. 
During an interview with Vogue, Tisci talked about how he'd lived in India and learned meditation after studying in multicultural London at Central Saint Martins before he started his own label in Italy. For fall 2020, Tisci featured sophisticated tailoring with an innovative twist, such as looped collars on trenches and double-layered coats. There were plenty of references to India, with pleated madras checks on everything from layered dresses to men's suits. For evening, a category that Tisci introduced for the label, he showed a silver chainmail dress with crystal fringe detail that was a real showstopper. Perfect for Tisci's fashion-forward clients.
MILAN
Prada has also postponed their upcoming resort 2021 show, which was to be held in Japan on May 21.  The company released the following statement: "The decision was made as a precautionary measure as well as an act of responsibility and respect for all the people working on and planning to attend our resort 2021 show." Prada will reveal a new location and date in the near future.
Fortunately for Prada, the coronavirus did not affect their Milan show.  Miuccia Prada, always the feminist, when asked about her collection,  "We can be strong and feminine at the same time…women carry the weight now. You can be delicate and frivolous and still hold power and be in command." So it was no surprise that on the runway, she mixed "clichés of femininity," as she described them to Vogue, accompanied pieces traditionally considered masculine. The designer combined boxy belted jackets with fringe skirts and crisp bib-front shirts were glammed up with strips of crystal fringe. There were also plenty of flirty embroidered car-wash skirts, delicate sheer layers dresses with lotus-flower prints, and terrific outerwear, most notably the belted leather puffer jackets.
In other exciting Prada news, it was just announced that Belgian-born Raf Simons will be working alongside Miuccia Prada as co-creative director for the brand. The collaboration between Simons and Miuccia – who has been at helm of Prada since 1978 – is said to come from "a deep reciprocal respect" between the two designers. "It opens a new dialogue, between designers widely acknowledged as two of the most important and influential of today," said the brand in a statement.
The fashion world eagerly looks forward to the possibilities of what these two creative geniuses will construct.
PARIS
Chanel's artistic director Virginie Viard will show her fall 2020 Chanel collection on Tuesday, March 3rd, but the house revealed that they are postponing the re-staging of its Métiers d'Art show in Beijing, which was slated to take place in May. The collection was originally shown in Paris on Dec. 4th.
Chanel released a statement: "Considering the current situation and following the guidance of Chinese authorities, Chanel has decided to postpone its project of a replica of the Paris – 31 Rue Cambon 2019/20 Métiers d'Art collection in May in Beijing to a later date and more appropriate moment."
At Christian Dior, Maria Grazia Chiuri's show notes stated, "All our thoughts are with our teams, clients, friends and partners in Asia, Italy and around the world." Known for her feminist movements, Chiuri did not disappoint with her fall 2020 Christian Dior collection. This season the creative director worked with the neo-conceptual artist collective Claire Fontaine in designing the runway where neon lights flashed messages such as, "When women strike the world stops." "Patriarchy = climate emergency." "Consent. Consent. Consent."
Thankfully, Chiuri's collections for Dior always live up to the dramatic spectacle she creates.  She opened the show with the houses' famous Bar jacket, but this time in a chic pantsuit version. The show had a relaxed and youthful elegance with homage to Marc Bohen's tenure at the house in the '70s.  Chiuri showed logo puffers, denim jackets and jeans, jumpsuits and plaid looks that ranged from belted coats to miniskirts. For evening there were silk fringe looks that were cohesive with the youthful collection. Hint, hint…fringe is back!
Dries Van Noten took virus precautions very seriously as he had ushers hand out face masks at the entrance to his show at the Opéra Bastille on Feb 26th. There were also large pump bottles of hand sanitizers stationed just beyond the metal detectors, which, by the way, now greet guests at every show. While the outside world all around us may be a frightening place, due to the epidemic of the coronavirus, political turmoil, and a rise in hate crimes, Dries Van Noten's runway was a happy place, filled with glamorous looks inspired by the '70s and '80s. In an interview with Vogue, Van Noten stated, "It's about going out, enjoying life—having fun, that's very important! I thought of this party girl. Something mysterious. Something dark. But I questioned how far it could go, while staying contemporary."
So, how did Van Noten translate his idea on the runway? Think casual glamour. Case in point, a plaid coat thrown over a chunky cardigan and feathered skirt. The designer also showed plenty of jungle prints in acid green and fuchsia, as well as a nod to grunge with plaids and shirts tied at the waist. There was definitely a Christian Lacroix influence, since the two collaborated with each other last season (they started the whole creative director collab trend). Van Noten showed a velvet blazer in emerald green, Art Deco-inspired iris print dresses, a purple paillette jacket and a heavily beaded sarong, paired with a semi sheer blouse.
At Maison Margiela, John Galliano had several models walk the runway in face wraps. However, this wasn't post-apocalyptic in any way, rather a delight of rejuvenation.  During his post show podcast, Galliano exclaimed "Restorative! The idea of giving something a new life…Kick-starting a new consciousness."
Galliano opened the show with a series of outerwear elements, or "memory of" coats attached to a sheer base worn over sheer layered dresses that were whimsical and delightful – all in rich hues. Later he showed full coats in generous proportions. At times they were spliced together, as if they were once two separate garments cut in half and sewn together. These deconstructed looks, or what he calls a "work-in-progress" technique is what makes Galliano the perfect designer for the Maison Margiela label.
At UoF, we've been asking about the relevance of fashion shows from the standpoint of cost/benefit, as well as their carbon footprint. Is it time for us to embrace 3D technology and create virtual fashion shows? Care to share your thoughts?
Sign-up for our newsletter
Join our newsletter to receive updates on future blog posts, special deals, and new lessons. Also visit the main webpage to check out all of our video lessons.